0,5V 0,2mA (And Other Entangled Stories)
Art exhibition at Matjö Raum für Kunst
Opening: Thursday, 11.05.2023 7 pm
Duration: 11.05.2023 – 18.06.2023
Math­i­asstr. 15
50676 Köln – Germany
Tel. +49 (0) 221 258 2113
info@matjoe.de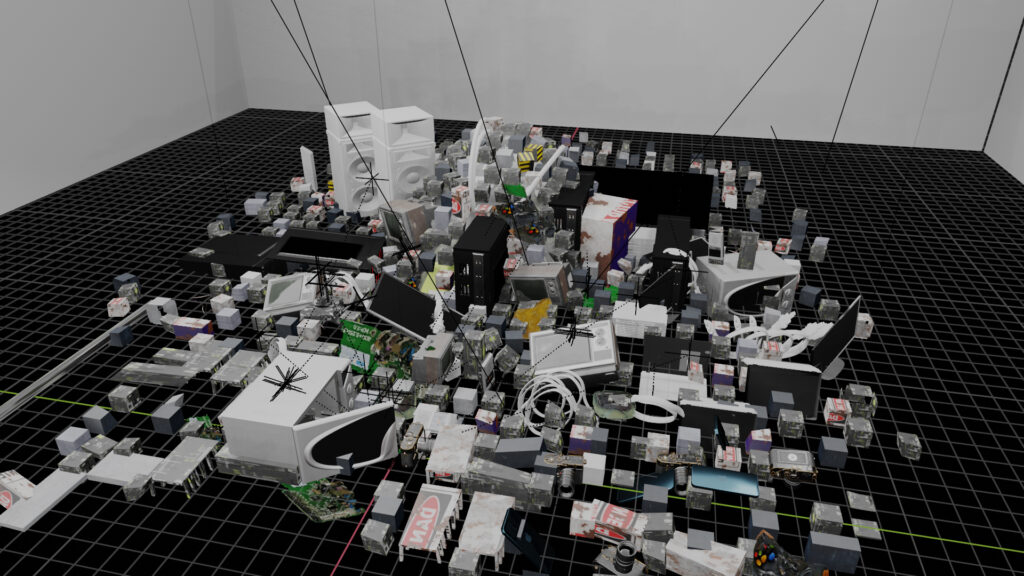 A group of nomads, a potato, a toy robot, an old woman, a bacterium – Peruvian artist Gonzalo H. Rodríguez gives voice to these human and non-human actors inside. They all helped to build "Villa Futuro". A fictitious city, which can be walked around by the exhibition visitors as a model made of electronic scrap.
The story of how this city came into being cannot be told linearly. It reveals itself as a narrative structure without a beginning or end, to which visitors can gain individual access via an AR app.
What initially creates the impression of a pile of rubble turns out, upon closer inspection and listening, to be a living city that, with its speculative stories, aims to inspire the wandering exhibition visitors to reflect on topics such as technological globalization, climate change, marginality, and life in the collective.
Text by Daniela Doutch
Funded by:
Stiftung Kunstfonds
Neu Start Plus